Your first choice when you need an experienced and caring medical doctor
Visit a medical doctor who is passionate about your health
Gwandalan Summerland Medical was founded in 2018 by Dr Gennadiy Brednya. As a full service general practitioner clinic, you will find the centre to be clean, modern and fully
equipped to handle your medical needs. Our doctors are passionate about providing quality medical care to families and individuals within the local community.
We understand that some patients don't enjoy a visit to the doctors. Our centre is friendly and welcoming so you can feel as relaxed and comfortable as possible upon your visit. Our
medical approach is a holistic one, and we allow ample time during your appointment to discuss your concerns.
Standard consultation fees are $55, and we bulk bill children under the age of 16, pension and concession card holders and DVA patients. Wherever possible, we aim to offer our patients same day appointments. Our opening hours are Monday to Friday, 8.30am – 5.30pm.
To schedule an appointment, please call us on 02 4972 5564 or use our online booking system.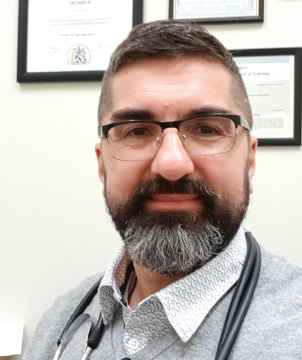 Dr Gennadiy Brednya MD, MRCGP UK, FRACGP.
Dr Brednya graduated in 1994 with a Bachelor of Medical Science from Kharkov University in Ukraine.
In 2004 he moved to the UK where he trained and worked as a GP for a decade, refining his skills and building on his medical knowledge.
Dr Brednya moved to Australia in 2014 to continue his career as a respected GP. He founded his own medical clinic, Gwandalan Summerland Medical in 2018 which he plans to grow into a thriving health care centre.
Dr Brednya has a particular interest in skin conditions, mental health and aged care. He speaks fluent English, Russian and Spanish.
Dr Ameeta Patel
Dr Ameeta Patel is an Australian GP and medical educator with 30 years diverse experience in the medical profession. An honours graduate of the University of Sydney, her experience includes 9 years in private general practice on the Central Coast; 10 years in Alice Springs working in Aboriginal Health, with the Royal Flying Doctors Service, and in general practice.
Other roles included serving on the NT Board of the Medical Board of Australia; National Lead Clinicians Group; and various board directorships. Academic work includes being an examiner for the RACGP fellowship exams and training medical students and GP Registrars.
Recently back from 3 years working in the Middle East, she has come back to NSW to be near family. Her clinical interests include women's health, mental health, travel medicine and working with underserved populations.
Her personal interests include gardening, art, travel, cooking and soon sailing!

General Practitioner
Routine health care, assessments, treatments & referrals

Podiatrist
Diagnosis and treatment for conditions of the foot

Physio / Chiro
Treatment for the management and prevention of injuries

Pathology
Examinations of bodily fluids to detect illness and disorders
Why choose Gwandalan Summerland Medical?

Experienced
Our doctors are qualified, experienced, and regularly undertake further study to maintain their knowledge of modern medical practices.

Committed
We take the time to get to know you and your medical history. If you need additional time during your consultation, you'll be given all the medical attention you need.
Accessible
When you need a doctor, you often need to be seen that day. Wherever possible, we aim to offer all our patients same day appointments.

Convenient
Our online booking system is quick and easy to use. We bulk bill children under the age of 16, pension and concession card holders and DVA patients.
Take advantage of our fast and secure online booking system